For Facebook livestream see,, https://www.facebook.com/AprilWatters4/videos/10214766383864162/
The group had a demonstration to bring awareness to many misconceptions to Guantanamo and those who have been held without due process or trail. Many have also been cleared for release years ago and yet, are still held.
Calling on all to come out to Grand Central Station, Thursday Feb. 1, at noon.  We'll be gathering at the clock in the main area to protest Trump's plan to keep Guantanamo open!
We'll have signs or bring your own.  We'll have orange jumpsuits if you wish to don one.  World Can't Wait is joining with Witness Against Torture, the Center for Constitutional Rights, Amnesty International and others to let the world know that we demand Guantanamo be closed now!
The US prison at Guantanamo is one of the towering human rights violations of the 21st century: extraordinary rendition, false imprisonment, inhumane treatment—including torture and death. Forty-one men are still there, almost all without any charges and five of whom have been cleared for release, not released yet and now without a chance from Trump.  And, he plans to bring more prisoners there.
From the Center for Constitutional Rights,,
"What have I done to remain detained? If I have committed a crime, bring me to trial." Sharqawi Al Hajj, Guantánamo Bay, Cuba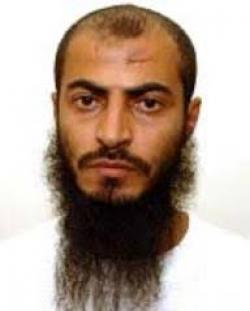 Sharqawi Al Hajj is a Yemeni citizen who has been detained at Guantánamo without charge since 2004. Before Guantánamo, he was detained for over two years in secret prisons in Afghanistan and Jordan, as detailed in unclassified district court filings in his habeas case. Sharqawi is among the 119 CIA detainees named in the Senate Select Committee on Intelligence's Study on the CIA's Detention and Interrogation Program. His torture is also the subject of the Human Rights Watch report, Double Jeopardy: CIA Renditions to Jordan.
Sharqawi was born in 1974 to a well-respected family in Taez, Yemen, where he was raised and attended school. In 1994, when he was 20 years old, he traveled to Bosnia, motivated by a desire to help refugees and other vulnerable people affected by the war. He served for a year with the Bosnian army, on the same side as the United States and its allies, before returning to Yemen. In 2000, Sharqawi travelled to Afghanistan, fleeing to Pakistan shortly after the U.S. bombing campaign began in 2001. He has never been accused of taking up arms against the United States or involvement in any act of violence.
In February 2002, Sharqawi was arrested by U.S. and Pakistani personnel in Pakistan and held in solitary confinement for three weeks. He was then rendered to Jordan. There he was kept in an isolation cell and interrogated extensively. During his interrogations, he was beaten regularly and threatened with electrocution and serious physical violence. He was also hidden during visits from the Red Cross. His interrogators acknowledged they were seeking information on behalf of the Americans. Ultimately Sharqawi was forced to sign a lengthy confession that contained statements he had never made.
"Under pressure, tortured people have no choice but to say what the torturer wants them to say in order to put an end to the torture."
After almost two years in Jordan, he was flown to a CIA prison in Kabul where he was kept in complete darkness and subjected to continuous loud music. He remained in this "Dark Prison" for approximately five months. He was subsequently flown to Bagram Air Force Base where he was kept in isolation for two and a half months, and beaten by soldiers. In August 2004, Sharqawi was transferred to Guantánamo, where he has been held ever since without charge.
In June 2011, a federal judge found that Sharqawi had been subjected to "patent … physical and psychological coercion" in Jordan and Kabul, which tainted his subsequent interrogations by the United States and prevented the government from being able to rely on that information to justify his detention. Despite that ruling, during his 2016 Periodic Review Board (PRB) the government apparently drew on information against him that had been previously discredited in federal court. CCR began to represent Sharqawi shortly after the PRB declined to clear him for transfer. He was granted a subsequent review on Feburary 28, 2017, only to be denied clearance a second time.
Sharqawi is gravely ill today. He suffers from the physical and psychological effects of his torture, which have never been evaluated by an independent physician in his 16 years of U.S. custody. He reports recurrent bouts of jaundice and weakness, which may indicate a potentially grave underlying condition. He has resorted to hunger strikes for long periods to protest his indefinite detention, and was hospitalized this past summer after he fell unconscious in his cell. According to an outside medical assessment obtained by CCR, Sharqawi may be on the verge of "total bodily collapse."
Also see journalist and author of the Guantanamo Files, Andy Worthington's Close Guantanamo page,, http://www.andyworthington.co.uk/
 Please watch the promotional video for the Close Guantanamo campaign, issued to mark Donald Trump's first month in office and to call on him to close #Guantanamo for good, and not to keep it open and to "load it up with some bad dudes," as he promised on the campaign trail, and as he has been threatening since taking office via a number of leaked draft executive orders calling for an end to all releases from the prison, for members of Islamic State to be sent there, and for torture to be revived as official US policy. 
https://www.facebook.com/CloseGuantanamo/videos/1372222592800184/

The video features dozens of photos of campaigners holding posters asking Trump to close Guantanamo, including members of Witness Against Torture, the World Can't Wait and CODEPINK: Women for Peace, and we'd like to ask you to join us. Please print off a poster, take a photo with it, and send it to us at info@closeguantanamo.org
http://www.closeguantanamo.org/…/CloseGuantanamoDonaldTrump…
Please also feel free to include a message to Donald Trump, and, if you wish, let us know where you're from, to show the breadth of opposition to his plans across the US and around the world.
See all the photos here: http://www.closeguantanamo.org/Donald-Trump-No-photos
The song that accompanies the video is "Close Guantanamo (2017 mix)", written by Andy Worthington and performed by his band The Four Fathers, which is available as a download via Bandcamp: https://thefourfathers.bandcamp.com/…/close-guantanamo-2017…
The original song was used in our campaign video in November, aimed at President Obama, and it has now been remixed and revised with an added verse about Donald Trump and his "dystopian views."
The video is by The Four Fathers' drummer, Brendan Horstead, with text by Andy.
Sufyian Barhoumi is a 43-year-old Algerian man born and raised in Algiers, where his mother still lives and his late father practiced law. He has been held at Guantánamo since June 2002. As a young man, Sufyian lived in various countries in Europe – Spain, France, and England – as a farm worker and then a street merchant for about four years.
Sufyian was charged by military commission three times, but each time the charges were dropped. Sufyian believes his chance connection to a man named Abu Zubaydah is the reason he has been the subject of so much interest from the military and its prosecutors. Sufyian was arrested on March 28, 2002, in a raid on a large house in Faisalabad, Pakistan. That raid led to the capture of Zubaydah who was mistakenly regarded by the Bush administration as a senior figure in al-Qaeda and was the first victim of the torture program for so-called "high-value detainees," even though, as a former Justice Department official told The Washington Post, he "was not … an official member of al-Qaeda," and was, instead, "a kind of travel agent" for would-be jihadists. During Zubaydah's time in CIA detention he was water-boarded 83 times and subjected to numerous other torture techniques including forced nudity, sleep deprivation, and being sealed into small boxes. Under torture Zubaydah falsely stated that dozens of other men held by the United States were involved in terrorism.
Sufyian is one of the best-liked prisoners among both his fellow detainees and the guards, always meeting visitors with a smile, and now speaks a fair amount of English. One of the most avid soccer players in a prison full of enthusiasts, he regards himself as the best striker in Guantánamo. He has been described as "highly compliant" by the prison authorities and told The Wall Street Journal, "I don't have a black heart against America." Sufyian seeks to put the past behind him and look only to the future. He hopes to be reunited with his family in Algeria and dreams of going into business with his brothers.
On May 26, 2016, Sufyian's status was reviewed by President Obama's Period Review Board (PRB), which is tasked with determining whether detainees may be approved for transfer. On August 9, 2016, the Board approved Sufyian for transfer. In the final days of Obama's presidency, Barhoumi filed and was denied an emergency motion for an order that would permit his transfer before President Obama's term expired. He is one of five cleared men who remain detained at Guantánamo.
https://www.closeguantanamo.org/Prisoners
Facebook livestream video, https://www.facebook.com/AprilWatters4/videos/10214766537468002/
Human rights activists from September 11th Families for Peaceful Tomorrows, Witness Against Torture, the Justice for Muslims Collective, World Can't Wait, the Center for Constitutional Rights and other groups will gather at noon on Thursday, February 1 at the Main Terminal in Grand Central Station to protest Trump's recent Executive Order on Guantanamo.  Announced in the State of the Union address, the Order directs that the detention camp remain open, reversing the policy of President Obama to try to close the prison.
Demonstrators will hold a solemn vigil, with some people in orange jumpsuits and black hoods and others holding signs condemning Trump's policy.
The camp at Guantanamo has been a place of torture and other gross human rights abuses.  It continues to imprison 41 men — including 26 held without charge or trial and 5 whom the US government had already cleared for release. The military commission for the 9-11 accused has yet to come to trial after nearly six years. Trump's policy also freezes any releases from the prison and orders that new captives can be brought there.
Guantanamo remains a blight on the US Constitution, the rule of law and basic democratic values.  Trump's policy, as challenged in a lawsuit brought by the Center for Constitutional Rights, is based in his well-documented racism and Islamophobia.
"Trump's Executive Order brings us back to the darkest days of the Bush administration, when lawlessness and cruelty ruled," says Jeremy Varon, an organizer with Witness Against Torture from Brooklyn. "President Trump is an anti-Muslim bigot, pro-torture, and favors keeping a torture prison open forever," says Maha Hilal of the Justice for Muslims Collective. "With the Guantanamo policy, New Yorkers and the peoples of the world now have another reason to loathe this terrible leader."
(Visited 77 times, 1 visits today)